Brigitte Ledune
| Partner
‹‹ A text is an infinite mixture of references,
allusions and feelings, stirred together to make a coherent whole ››
Key areas of expertise
Editorial project management and contribution to several institutional large publications such as:
"Brussels and the European institutions: 50 years of relations" for the Ministry of the Brussels-Capital Region. Publisher: le Castor Astral.
The "European Economic and Social Committee, 50 years of participatory democracy". Task carried out in collaboration with the research department of the University of Florence. In 2018-2019, for the 60th birthday of the institution, an update of the publication has been released in digital format.
Good knowledge of the institutional field and related matters at the Brussels regional level but also national and European.
Education
Arts degree in roman Philology at the Brussels University (ULB).
Career highlights
September 2009: Foundation of edito3, avenue Clémentine 9, in Brussels, an agency specialized in editorial communication
2002-2009: Partner in the EUNITED network, a European group. Assignments for various European institutions.
1982-2002: Copywriter in the communications and advertising sectors
Profile
Today, Brigitte is currently in charge of the editorial missions of the company. She works on numerous editorial projects online and offline: publications, brochures, corporate magazines, web sites.
She acquired a good knowledge of web-related technologies and functions, further to a long-term experience with the Brussels Regional Informatics Centre (BRIC) for the restructuring of the portal website of the Brussels-Capital Region.
Brigitte also teaches at the ERG (École de Recherche Graphique/www.erg.be), an institute of higher education in visual and applied arts: this link with the academic world gives her the opportunity to think about the new challenges that communication and image are faced with.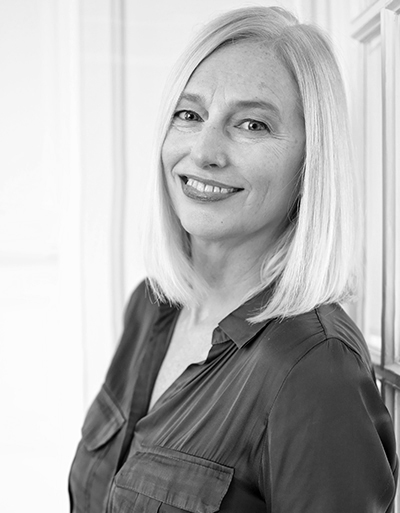 ‹‹ Creating content is not just rewriting an existing text. It's analysing, synthesising, searching for what will feed the text…Think about who this content will be disseminated to and in which form ››
Key areas of expertise
Writing and editing/rewriting of texts in French and multilingual proofreading (FR/EN/NL)
Consulting, analysis, research and interviewing
A keen sense of organisation and detail, perfect understanding of the graphic and digital chain.
Education
Master in Journalism & Communication (Université Libre de Bruxelles, ULB)
Career highlights
September 2009 – Present: creation of edito3, avenue Clémentine 9, 1190 Brussels, a company specialising in content strategy and editorial communication
1990-2009: Sylvie joins Landmarks s.a., a graphic design and corporate communication agency. She became an associate partner in 2000. In this context, she has managed graphic development projects and multilingual publications – annual reports, corporate brochures, newsletters, magazines and online tools for clients such as Groupe Bruxelles Lambert (GBL), Wyeth Pharmaceuticals, Quick Restaurants, Cefic (European Chemical Industries Council), Citibank, Delen-Capfi.
Profile
Today, Sylvie is continuing her expertise in the management and content of editorial and web projects. She carries out multi-support editorial assignements, editorial coordination of publications (design and production). For 3 years, she followed in particular (2014-2017) the creation, writing and production of the King Baudouin Foundation's annual report.
Her main activities as a copywriter include:
Content analysis and definition of the editorial policy, according to the targets, the objectives and of the communication environment
Development of the editorial charter
The creation of content or the adaptation of existing content
Coordination with other writers or any other contributor (web designer or webmaster, graphic designer, art director, illustrator, photographer, etc.).
Information monitoring
Sylvie has very good skills in planning, budget management and quality control. She ensures the follow-up of publications from A to Z for all edito3's clients, such as citydev.brussels, Europ Assistance, Science Europe, Prince Albert Fund, Cefic, etc.
Over the last two years, Sylvie has developed editorial expertise (online and offline) for the Brussels institutional sector, with assignments for hub.brussels, Actiris, citydev.brussels, Bruxelles Formation and Bruxelles Logement.
edito3
Avenue Brugmann 63
B-1190 Brussels
Belgium
Tel. +32 (0)475 39 67 34
info@edito3.be